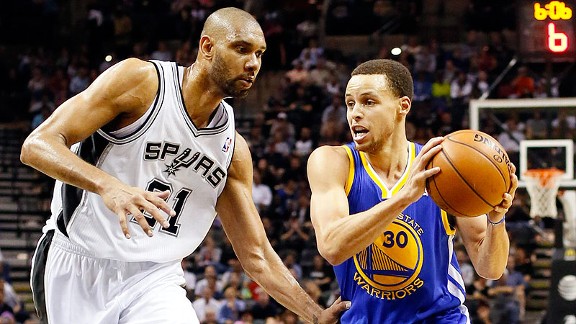 To be clear, I do not expect Golden State to win this series. I never did. That much hasn't changed, but I have noticed some things that at the very least, make me less pessimistic.
Yesterday, Henry Abbott asked if I was more or less inspired by the notion that Golden State could win this series. I responded "No," because it's better to get the win than to play well. Upon review, however, there are more reasons for inspiration than there were prior to that crushing Game 1 giveaway–two, specifically.
Klay Thompson does a good job on Tony Parker
As Andrew McNeil pointed out, Tony Parker is an awkward fit in this series, early on . He can't guard Stephen Curry, and Klay Thompson can easily shoot over him. Not only that, but Thompson did a fantastic job bothering Parker, right up until the point where Klay fouled out, and Parker got loose. Tony was 4-of-15 at the Thompson foul out; He finished 11-of-26. Perhaps TP will figure out a way to play better against the second year wing, but if "Klay mutes Parker" is real, it has real implications for the series. The Spurs are carried by their collective approach, but they still need Parker's slashing and scoring to function. When he's played poorly, San Antonio's lost playoff series.
Tim Duncan does a poor job on Stephen Curry
This was the strangest subplot of Game 1: The Spurs did so much better after an ailing Tim Duncan trudged off the court. Latter career Timmy hedges less above the three-point line on pick and roll defense than ever before. Against many teams, this isn't an issue.  Against the Warriors, this can be a giant problem. Most players can't efficiently uncork three-pointers off the dribble, but with Stephen Curry, the bounce of his dribble evokes the cocking of a shotgun. If Tim Duncan keeps sinking back towards the paint when Curry's defender gets screened, the Warriors will have plenty of open above-the-break 3s for their star.
So there you go, San Antonio's two best players offer two big reasons for optimism. Of course, Golden State's porous three-point defense might negatively outweigh those advantages, but we'll just have to see.