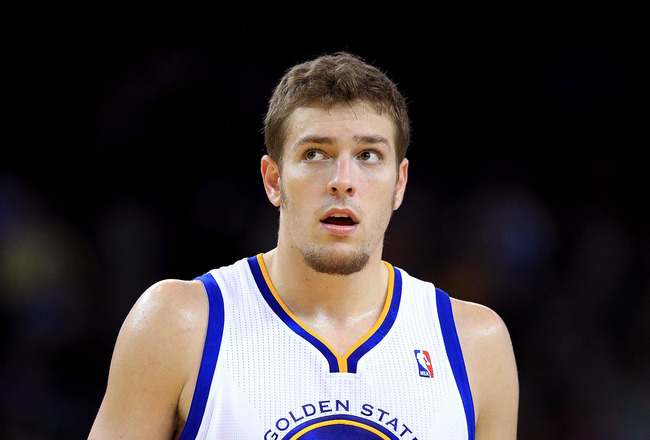 Sometimes teams just lose. Pretty boring, right? Certainly makes for a dull recap. The Golden State Warriors lost to the Utah Jazz on Sunday night. Maybe it's because Utah hit 11 three pointers. Or maybe it's because GSW's three point defense was so lax as to give up easy looks. Maybe it's because refs weren't calling off-the-ball fouls, thus allowing the Jazz to stymie GSW's off-ball screens. Maybe it's because the Warriors were sloppy. Maybe it's because the Jazz were physical. Maybe it's because the Jazz "wanted it more," as the cliche goes. Mark Jackson certainly seemed to indicate that one team was playing for their lives while the other was playing with a cushion.
The point is, a single game can be won or lost for variety of reasons–some of the luck variety, some of the skill variety, and some of the effort variety. This is why I don't subscribe to Tim Kawakami's opinion that such a loss means that the Warriors don't seem like a "real playoff team at all." To be clear, I value Kawakami's perspective as he's utterly immune to the positive-skewing group think that pervades in local sports media. I just disagree with the idea of one particular bad loss being particularly revelatory. It isn't just Tim saying it. Sunday's slopfest brought out a lot of negative conclusions from writers and fans all over. 
Yes, this would have been a great game for the Warriors to win. It would have boosted their chances of nabbing a sixth seed, which then would have boosted their chances of upsetting the next opponent. And on Sunday, it didn't happen. It's one game, a game in which a slightly above average team lost to a slightly above average team. Regardless of necessity or circumstance, these things happen. Teams lose games they badly want or need, without such a loss saying much about them.
Did the 2012 Miami Heat want to drop Game 5 to Boston? At the time, you could argue that a title team pulls that game out. Did the 2011 Dallas Mavericks look like a title team when they collapsed to the emotional spectacle of a fourth quarter Brandon Roy comeback? What about earlier that season, right before the playoffs, when the Lakers pasted the Mavs on national TV?
The Warriors are the same team they were before Sunday night: Playoff-level, with a likely first round exit. We're too late in the season for much of anything, injuries excepted, to change an assessment. If given the sixth seed, they could upset Denver. Any other series is a longshot, Clippers included.
Even if the Warriors didn't clinch tonight, the odds are better than 99% that they'll be in the postseason. And frankly, that's success. High expectations are great, but there's something to be said for realism. This squad, for all its faults, exceeded nearly everyone's expectations. The coaching staff has done a fine job optimizing a roster that's replete with rookies and short on elite talent. It won't be good enough forever, but it's good enough for now. Bad losses at this juncture don't do much to change the overall analysis.