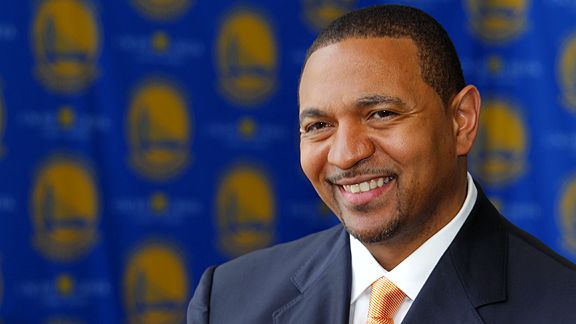 Few believed in the Mark Jackson hire. Many doubted that a first time coach could be effective. So what did Jackson do at his introductory press conference? He boomed, "You might as well latch on to the back of the bandwagon."
That's how he is. The man has a steadfast belief, and a steadfast belief in belief. The power of positive thinking is alive in Oakland–and it's chirping.
Mark Jackson's different from your standard "rah rah" motivator because he brags. And really, when it comes to coaches, I'm quite suspicious of intangible motivation bonafides. It's just that this is some next level boldness, and it's working so far.
The Warriors coach isn't defined by exhorting his players to try harder or be better. Jackson is defined by insisting that his players are better than consensus would suggest. Klay Thompson reminds him of Reggie Miller. Stephen Curry is an elite defender. Festus Ezeli and Draymond Green? Unfairly snubbed by the Rising Stars Challenge.
And it's easy to laugh at the boasts that border on delusion. It's easy to laugh except, there might something to setting a new paradigm for your players and for your franchise. Early on in high school, I got bad grades. I thought I was dumb, and perhaps I was. I didn't actively think about college. I just took the path of least resistance in almost any endeavor. Then, in sophmore year, I got an aptitude test back. The results thought more of me than I thought of myself, and I started working hard to validate the one, aberrational assessment that actually liked me. It changed my life. It was just a stupid test, but an outside opinion can do much to inform your sense of what's possible.
Obviously, athletes have more confidence than teenage me, but even they must be susceptible to the power of suggestion. There could well be value in publicly insisting that athletes are more valuable than we all might think.
Though Golden State's style can't be defined as "aggressive" in the traditional basketball sense (i.e., they don't drive to the basket frequently), it often reflects a certain buoyant swagger. The Warriors will shoot threes instantly after snagging offensive rebounds. Klay Thompson must be wearing night vision goggles, because all he sees are green lights. Steph Curry's testing the limits of what constitutes a good shot, as he keeps draining the most difficult tries.
Speaking of Curry, Keith Smart used to bench him after a mistake or two. Perhaps the quick, constraining hook was meant as a motivator, but it sure didn't seem to cull the turnovers. Mark Jackson tends to let a few Curry mistakes breathe, and even lets him play through foul trouble. (Wednesday night's victory over New Orleans was actually one of the rare instances where Jackson benched Curry after foul trouble, probably because Bavetta was making rather bizarre calls throughout). These days, Steph is turning the ball over less, and becoming a star in the process.
I recently wrote about how the Warriors should have David Lee push the break more. My assumption was that they were holding out on this tactic due to basketball convention. A power forward running the break is scarily unusual and it can lead to turnovers.
Turns out I was wrong. When I asked Mark Jackson about whether certain rules dictated when David Lee would take off, the coach responded:
"There's no rules. I've encouraged him from Day 1 to rebound the basketball and push it up the floor, and make plays. When he does it, good things happen…he has the green light to do it."
When I asked David Lee about it, he said:
"Coach encourages me to do it more. I probably need to do it a lot more, especially with the shooters we have. Running the floor, I think I can get them a lot of open shots."
David Lee has the green light to create on his lonesome, just like he did as a point guard in high school. His coach believes in his talent, probably more than most do (Jackson also stated that Lee had the green light to shoot threes, if he so chooses). Maybe this will lead to Mark Jackson some day telling us that David Lee is the best point guard in basketball, other than Steph Curry of course.
And maybe, just maybe, the mere overconfident boast will make the impossible seem attainable, and thus make the impossible a little less impossible. We all know the folly of arrogance, but pride has its benefits, especially to a franchise and a group of players who have never known winning for more than a fleeting moment. The Jackson Doctrine dictates that if you brag it, it will come. Or, maybe it won't, but you'll be improved for the publicly stated ambition.