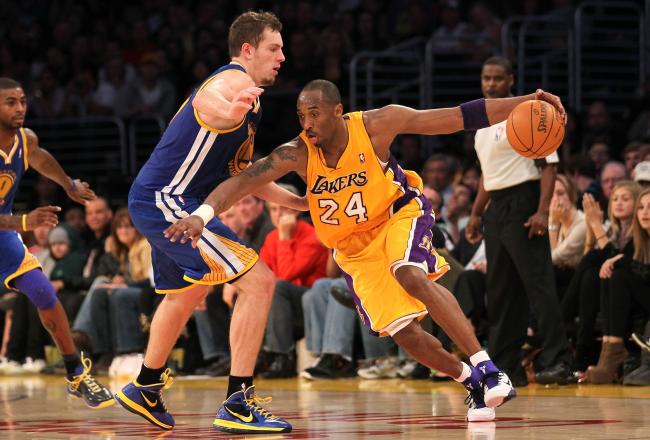 Golden State has long had an issue on defense, but this year promised to herald a new era. The Dubs were a top 10 unit early in the season without Bogut, which seemed to bode incredibly well for when he returned.
Instead, the Dubs slid substantially in January and February. Their strategy of having bigs sink towards the paint on pick and roll left the team vulnerable to the skip pass and open three-pointers. Long shots that weren't falling in November and December started swishing in 2013. Coming into their 92-63 scraping of the Knicks, the Warriors were 17th in defensive efficiency.
Against the stumbling, spacey Bockers of New York, Golden State gave a glimpse into what could be a competent defensive unit. I fear they lack the talent to ever be elite defensively, but "average" or "above average" may well be within their grasp. For Warriors fans, above average defense can be a beautiful thing to behold.
David Lee's key to any defensive improvement, as he's often struggled in a defensively important position. Bigs tend to matter more on D, as the art is about occupying space. Lee has especially poor agility when hedging back towards the paint from the perimeter, so the sink strategy was meant to mitigate that flaw.
Kirk Goldsberry's Lee-skewering Sloan paper on interior defense, titled "The Dwight Effect," came at the right time for Kirk and the wrong time for D-Lee. The Warriors were imploding defensively and Lee was getting plenty of blame. After the victory, I asked Lee for his thoughts on the paper:
"At this point I could care less. I've worked hard to improve my defense. I think I'm a much better defensive player today than I was a year ago and definitely to start my career. There's a lot of different numbers to support a lot of different things. You can't have it both ways. You can't say me putting up 20 and 10 doesn't matter because 'numbers don't matter,' but at the same time, 'charts at MIT matter.' You can't have it both ways."
I'd say that's a good answer under the awkward circumstances but not one I necessarily agree with. He's a bit right that certain Lee critics castigate him for "empty stats" and some of those critics lept on these anti-Lee statistics with glee. But it's not as though all Lee's critics dismiss his offensive efficiency. The reasonable among us, I believe, praise his offense while deriding his D. For David Lee to escape the crosshairs of the next Kirk Goldsberry, he needs to improve beyond the personal defensive progression he cited.
Curry and Strategy
Stephen Curry talks a lot of basketball strategy. If you're a nerd like me, that's pretty cool. Here are two videos in which he does that, while addressing how open he was in the first quarter, and how he addresses a defensive switch.