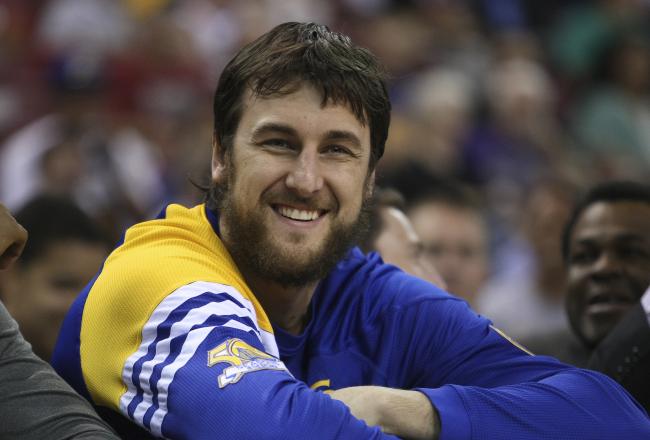 The Warriors are an average team. Not bad. Not great. Average. The offense–until these past three games–shoots well enough to be among the NBA's better units. The defense is between average and mediocre. The D is predictable because GSW's big men can't hedge. The offense can't get to the rim.
We know this. We've known this. Andrew Bogut provided some hope that Golden State could elevate to an elite level, but that was before he actually joined the action. I hasn't worked out that way, so the Warriors are who they've been, and what they've been this season is better than what they've been in past seasons. Don't freak out. Don't panic. This is still a successful season when weighed against preseason expectations.
Recent losses to the Rockets and Bucks don't mean that this team is a "fraud" because there are a bunch of other fringe playoff teams with their own problems. The Lakers are currently heralded after a couple bounces saved them from losses against the Hornets and Raptors. The Jazz are fee falling. All these teams are "frauds" in their own special ways.
For the Warriors, the recent problem has been on the offensive end. In short, shots aren't falling. In theory, shots will eventually fall. Deep breath. Calm it down.
Quotables: 
Stephen Curry, on why the Warriors couldn't find open 3's till the 4th quarter against the Bucks: "They were blitzing ball screens. The big was staying till the guard gave up it up. They did a great job rotating to the backside too. Teams know our strengths, and we've got to adjust."
Offensive and defensive predictability has become and issue for Golden State. Perhaps Currys' right in that better execution will solve the issue on offense, but open shots have been hard to come by. Then again, Jarrett Jack has been missing shots he usually makes.
Jarrett Jack: "I'm shooting the same shots I was shooting when I was making them. That's the positive point I take from it. It's not like I'm deviating from what made me successful early on. I'm just gonna' continue to shoot those same shots."