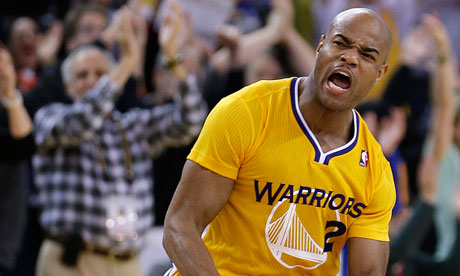 I throw the term "Jarrett Jack God Mode" around a lot because it's real. It's not necessarily about Golden State's Sixth Man acting as some sort of regular dominant basketball force. After all, were he a consistent basketball deity, he'd be a superstar and not a role player.
No, Jarrett Jack God Mode is about a man transcending himself for brief, incredible stretches. It's about a bench player who owns these moments where his limitations evaporate. We've seen it these last two games, with Jack coming up big against San Antonio and Minnesota.
The thing about JJGM is that it doesn't come sensibly. It comes irrationally, questionably, or not at all. This is not LeBron James making the perfect read, every time down the floor. Jack will often look at a wide open Stephen Curry in the corner, ignore him, and try a difficult, contested shot.
Jack's process can be gratingly wrong, but the results are good on balance. Right now, Jarrett boasts a healthy 57.2 true shooting percentage, while delivering 6 assists per game. The assists come less from the field of Jack's peripheral vision and more from the area in front of his eyes. GSW's Sixth Man only sees the whole court when on that bench. In the game, he's slicing defenses off drives and dump-offs–not deft pocket passes or no-look lasers across the floor.
The backup point guard has become polarizing among fans because he doesn't initiate a broader style of offense. Jack's game is pretty Jack-centric. He goes about his business like a dominant pick up player, pounding the ball as his teammates take in the scenery.
Jack controls his pace, jutting his backside at trailing defenders while burrowing his way towards the basket. It often ends in a back-leaning jump shot that Jack slings from some invisible lawn chair. Somehow, it goes in a lot.
The symphonic conductor's control of pace, mixed with the unblockable jumper, mixed with that jumper going in quite frequently, can create the illusion of infallibility for a quarter or two. We've learned that the "hot hand theory" is not correct, that we create false narratives out of consecutive made jumpers.
It's just that few seem more in control of his team's fate than Jarrett Jack when the shots are falling. Jarrett Jack God Mode might be an illusion, but it's as convincing as illusions get.