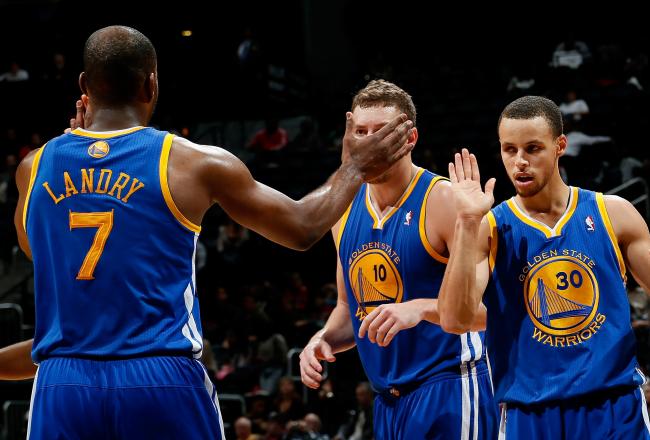 The whole is greater than the sum of its parts. That's what we're learning about the Warriors as they finally struggle. And I don't mind the downturn right now because at least it teaches us about what was working in the first place. Golden State does not have the top level talent to survive a gimpy Jarrett Jack, let alone a gimpy Jarrett Jack and a suited Stephen Curry.
It's a theoretical virtue for a team to be elevated in the collective, to be more than merely an aggregation of whatever its players can do. And yet, there's an inherent fragility to this arrangement that's rarely acknowledged. If the team is animated into quality because its pieces click just so, then an injury or two can derail the entire operation.
The Warriors are carried by the collective decent, not the singularly brilliant. When GSW's coalition of the competent shows up without some of its members, they can look awful. On Wednesday night, the other team had a generation-beating superstar, and two other incredible talents.
That LeBron-Wade-Bosh arrangement never really fit, but the team was carried by the individual brilliance of both. Though Bosh complemented the play of LeBron and Wade, the latter two don't exactly play complementary styles for one another. Both were best with the rock in his hands and Naismith only designed the game to have one ball. In this way, the Heat are more like a baseball team; Tally up the exploits of each guy's at-bat and you have your result. That result is enough to overwhelm a hobbled Warriors team, even when Bosh isn't on his game.
Before losing four of five, Golden State had been winning with just enough depth to drown the opponent. Then Jarrett Jack hurt his elbow before the Clippers game/debacle. Jarrett's diminished state can't account for all, or even most, of what's gone wrong in this 1-4 stretch. But I would hazard that his absence matters disproportionately on this team.
Jarrett Jack had been functioning in a role analogous to Lamar Odom's with those Laker teams. Just as L.A. needed for Odom to serve as the bridge between centers Pau Gasol and Andrew Bynum, Golden State needs Jack to be the bridge between shooting guards Stephen Curry and Klay Thompson.
When I call Stephen Curry and Klay Thompson "shooting guards," I mean quite literally that they're guards who shoot a lot. I'm well aware that Curry possesses "point guard skills." It's just that, it's such a boon for the Warriors to have a shooter like Curry be the recipient of initiated offense for stretches.
Steph doesn't necessarily benefit from Jack's presence, but Jack benefits from Curry's floor-spacing ability. When dribbling above the arc, Stephen Curry sometimes commands the standard, "Hey, guard that dribbling guy, and don't go under the screen" defensive attention. Off the ball, defenses almost always trail and track the 46% three point shooter like he's Randy Moss. This extra attention creates opportunities for others.
The Warriors boasted an ability to hit defenses with different approaches from their three guard lineup. It's not the biggest asset in the world, but it mattered for this team. The combination of a slumping Jarrett Jack and a slumping David Lee was too much for the Warriors to bear.
Depth has carried them to this point. When Brandon Rush blew out his ACL, rookies Harrison Barnes and Draymond Green took those extra minutes without tripping over themselves in the process. Early in the season, when Curry and Thompson couldn't hit three pointers, Carl Landry stepped up and bullied the opposition into submission.
Depth is insurance, a safety net for injuries and slumps. Depth is what widens that margin of error. But if all you have is depth, then that error margin is actually quite slim.
That's because other good teams have superstars. The Warriors have very good players, and two of them (Landry, Jack) come off the bench. That's a depth that few other good teams can boast, but a depth that the Warriors need more desperately than few other good teams.