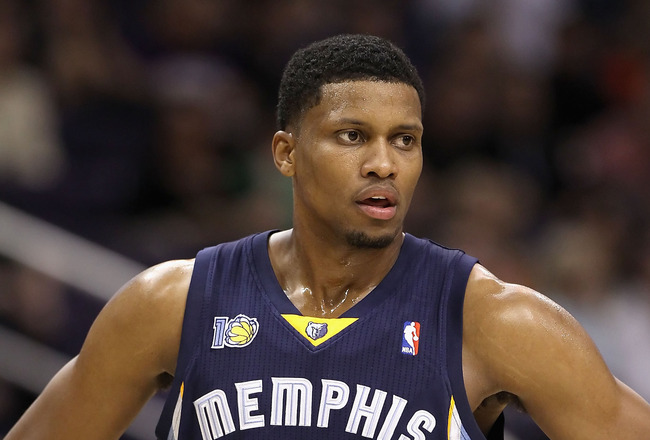 Trade rumors are a' swirling around the idea that Rudy Gay could come to the Warriors.
I'm open to the idea that Rudy Gay might flourish in the right situation. That's a nice way of saying that I don't understand the interest in him in this instance.
There were a lot of jokes about how, after John Hollinger joned up with the Grizzlies, Rudy Gay was done in Memphis. After all, Gay's 14.94 PER is a shade below average and he's making $53 million.
The funny thing about these jokes, apart from that these jokes are funny, apart from that these jokes are funny because they might be true, is that PER likes Rudy Gay best among aggregate advanced statistics. It's hard to know the value of taking a shot, and PER errs on the side of rewarding shot takers. This isn't necessarily a flaw in the metric; It just means that PER is more forgiving of Rudy than Win Shares and Wins Produced–as a matter of philosophy.
This is another way of saying that so many stats tend to sneer at Rudy Gay once you look beyond scoring average. If that sentence reads at all familiarly, it's because I and others have made similar statements about Monta Ellis for years. By the way, did you hear that Scott Skiles is no longer coach of the Milwaukee Bucks? Funny, that.
If you're an optimist about this possible move, perhaps it's because you believe that Gay will shoot much better on a team with better spacing. He's had one year of 39% three point shooting, but is 34.5% for his career. We've seen what better spacing has done to Carmelo Anthony's three point stroke, so maybe the same can happen to Rudy.
The problem is that Golden State can't provide the spacing that New York does, on account of playing a traditional power forward in David Lee. There exists another possibility that David Lee's passing will compensate for the lack of space, thus freeing Rudy Gay's three pointer like a glorious, fluttering, ascending speckled dove. If you're betting on that, that's your gamble. I'm not with you on it.
Life is good in the Bay Area right now, and while I applaud aggressive tactics, I would also prefer an objective reason to believe in a gamble. Rudy Gay and his $53 million contract haven't delivered much in the way of value so far. As I wish the player in question would do more often, I'd pass here.