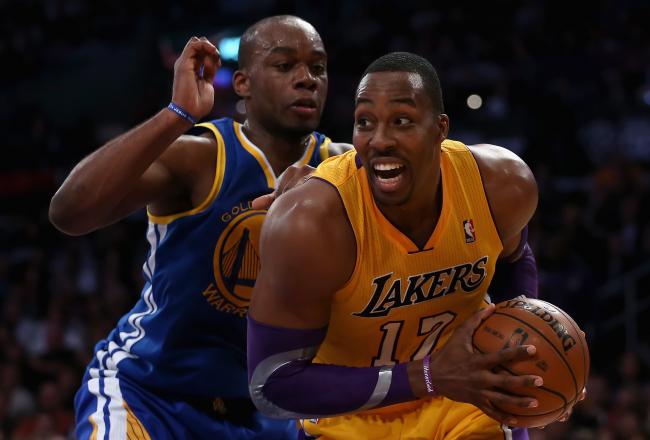 Did it sting? Did you love how much it stung? Feel the pain, because that throb means you're actually invested in this team for once.
Warriors vs. Lakers hurt GSW fans like few losses have, because not much has mattered here for awhile. The pang of losing was all the more amplified by the atmosphere and emotion involved in this particular, odd 1/82 slice of the schedule. Laker fans are legion in Northern California, and the ones outside of Southern California are perhaps louder than ones who attend Staples. Lakers at Warriors means an Oracle invasion, but this one was different because GSW showed out with more passion, excitement, and catharsis than I'd ever witnessed at one of these.
It was like a European soccer game, where supporters of both squads scream equally loud. The difference was that, unlike in Europe where the home and away fans are separated from each other, the crowd was completely mixed, shaken together like some Boggle letters. This created a surreality where Lakers baskets and Warriors baskets were met with a jolting cheer, and the noise emanated from the same place, regardless of who scored. Not only that, but the overlap in team colors meant that it was difficult to know who was for what. It was like the crowd was one, big, boisterous, schizophrenic dude.
It started out sloppily, with Golden State ceding 10 turnovers in the first quarter. Early mistakes came back to haunt the Warriors, as a game they mostly controlled slowly shifted back towards the Lakers. This was Jarrett Jack's best game here, and he has Steve Nash to thank in part for it. While I believe that point guard defense is less important than defense at the frontcourt positions, Nash might be so defensively anemic as to make a pronounced negative impact.
This is not meant as a slight of Jack, because he should be credited for being opportunistic when a lot of his teammates were not. He steadied the offense in times of trouble, cooly hit big shots in times of trouble. Though, I suspect that the reliance on J-Jack threw the Warriors off in other ways. The devastating Curry-Lee pick-and-roll was rarely seen, and while Curry shot, he often did so in isolation, sometimes in situations where he was pressing.
The Shocking Harrison Barnes 
Harrison Barnes represents the fault line that separates these two regions. He rarely makes his presence felt, but when he does, it rattles the world.
The HarriSanAndreas fault was shaking tonight, to the tune of 13 points that felt like 26.
There was a Barnes moment I'll remember for my entire sentient life, and it wasn't the above dunk–cool as that was. It's when Barnes stole a Steve Nash pass and had the opportunity to extend a one-point lead with 1:20 left. Those are mostly the details I'll forget, but this should stay with me. When Barnes flicked up his doomed, errant layup, he was being chased by a cacophonous delirium of crowd noise. But, as that ball floated, there lived an icy second of relative quiet. For much of the game, both sides had reason to shout about something, anything. The floating shot was a pause of focus and yearning. It was pretty cool, even if the result wasn't. And "Pretty cool, even though the result wasn't" applies to everything that happened on Saturday night in Oracle.
Klay Thompson Questions
I asked Mark Jackson if he thought Klay Thompson was taking the right shots. The coach shot back quickly:
"Yes, he's a great shooter. Those are the shots I want him to take."
Coaches have to deal with a delicate balance when it comes to shooters. It's preferable that a player lets it fly with an unencumbered mind, but it's also preferable that said player takes smart shots. Klay Thompson has had a bit of a shot selection problem this year, and I would hazard that it's depressed his averages below where they should probably be. He's a talented two-guard, but a little less of Klay might be a little  more of Klay. There have been plenty of Thompson shots this season where other Warriors stood wide-open, hands up.
This is a young team, so such a Klay progression might happen naturally. The quicker the better for a team that suddenly has realistic short-term goals like playoffs and stuff.