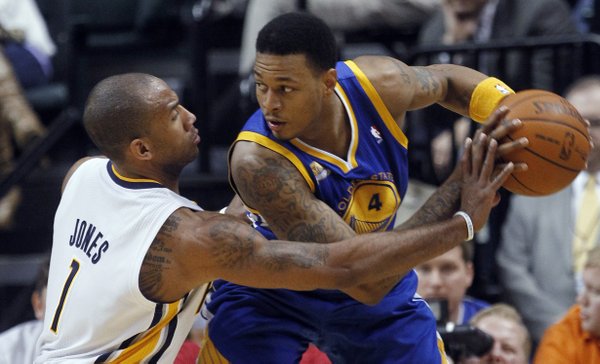 I can't claim to know these athletes. Rasheed can, but he moves in cooler circles. These are just snippets of what I saw from one former Warrior (D-Wright), and one possibly soon-to-be-former Warrior (Brandon Rush).
Belatedly, I lament Dorell Wright's forced departure. He exceeded expectations in the first year, and had a bit of a downturn in the second. Considering how the Warriors weren't close to a playoff berth, his connection to the community mattered more to me than his 2011-2012 flaws. He will be missed.
Wright cared immensely, unusually so. After a bad game, he would appear crushed. I'm not into psychoanalyzing athletes from afar, but the reaction was obvious, so obvious I'd sometimes cite it in recaps :
"The locker room is somber, as I'd imagine most would be under the circumstances. Dorell Wright–appearing shaken and despondent–is one of the few to host a media scrum. He cites the turnover issue and I ask for what caused it"
There was also the other side of Dorell Wright, the guy who'd swell up after success:
"Dorell Wright's locker stall has seen few media members after recent games. Tonight, we're waiting on the hero. Poking him, prodding him, asking when he can finally hold court. Dorell dresses himself languidly as the press congregates. Every motion deliberate, he strolls slowly to the gaggle. Then, with a wry smile: 'Oh NOW they comin' back.'"
This was after a particularly rough stretch, one that coincided with Wright leaving Twitter–for good, he declared to me. I pried after the reason, and he acknowledged that the fan hatred was a factor. Thankfully, it wasn't such a factor that Dorell made good on his pledge. He's back and tweeting, most recently about his new Philly digs.
Twitter isn't a fun place for a player on a slump, as fans live to lower the self esteem of an athlete who's not boosting the (rented, vicarious) self esteem of said fans. Hell, real life can be an unfun place for an athlete on a slump. When Dorell showed up to Mosswood Park for a H-O-R-S-E game against Matt Steinmetz, I heard a couple teens ask Wright about his 2011-2012 struggles. "Man, you used to hit threes! What happened?" Before Dorell could respond, the kids had moved on to asking how he felt about Monta getting traded. Kids: The only subset of humanity worse than fans.
I can't determine whether Wright's sensitivity and seeming aversion to being disliked helped fuel the slumps that bedeviled his second year here. It's a tough case to make, considering how he's gotten so far as a professional athlete with such a personality. I just know that Wright reacted to how he was reacted to.
This isn't an insult. I Google my name every day. It's perfectly normal and human to care about what others think, especially in a world where such information is so addictively accessible. I was utterly disbelieving of Russell Westbrook's famous post-game quote, "What you guys say doesn't make me happy, make me sad — doesn't do anything," and it's not because I want to pretend that we writer people matter so damned much. I doubt Russ because he would have no reason to project such an attitude if he really were so cooly apathetic. He doth shrugs too hard. Only strange people are immune to what other people think.
Brandon Rush might be one of those guys, though. To put it in the alliterative, Rush is cool, calm and cranky. I haven't personally encountered the "cranky," but on social media, Brandon's a grumbling, kvetching, hilarious old man. He would lead all Warriors in SMH, were it not for Rick Barry.
You'd be lucky to divine what happened from Rush's post game demeanor. Before games, he is equally poker-faced. Brandon would often be in the locker room pre tip-off, during the media access period. Back when he was on the team, Ekpe Udoh could be jumpy during this time, with some impatient adrenaline causing his voice to quaver.  It was enough to where I stopped bothering the kid. He was clearly trying to focus against all instinct.
Rush, you could bug without feeling like a psychological troll. He was usually slumped in front of his iPad, furrowed brow nudging his eyes towards team strategy diagrams. Though in uniform, and using a technologically advanced device, relaxed Rush conjured a grandpa, reading a newspaper from the rocking chair.
This is not to say that Brandon was without motivation or concern. Rush clearly cared about money. Again, this is not an insult. Most reasonable people care about money. BR was just fairly open about it. Once, when I asked him if an Afflalo comparison would fit his game, Rush replied:
"Ya, that'd be a good comparison. And he just got paid too (laughs)."
From that point, I wondered if the contract year focus helped keep it in perspective for Rush, as there was a detached professionalism to his way. Recently, he's been tweeting frequently in response to other contract signings, using the #CTC (cut the check) hashtag for his friend Roy Hibbert's deal. Rush is a restricted free agent, one who might garner a lot of attention from teams that like mundane stuff like three pointers and defense.
Perhaps Wright's reactive kind of caring led to a volatile shooting year, paving his Bay Area exit. Perhaps Rush's compartmentalized caring led to a steadier flick of the wrist, and a continued tenure with this team.