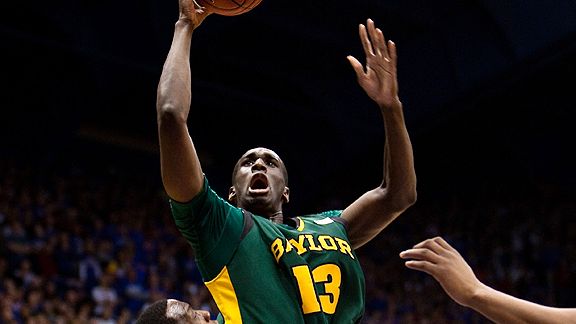 The weather was bleak, a greying sky that bore no contrast to Oracle's concrete corrosion.  Inside the stadium, far too many fans bubbled with far too much enthusiasm.  After eons of Cohanese water torture, legions of Warriors supporters persevere like three-eyed fish near a nuclear plant. They simply won't die, no matter the circumstances. Many have said that sports mean more on the East Coast. That's a lot of crap.
Two swift stabs killed the collective excitement. First to the stomach–Cousins went to the Kings. Not everybody was sold on DeMarcus, but drafts are about dreaming. We envision the best-case scenario and Boogie can be great. When DC got King'd, some Oracle faithful unleashed pained yelps.
The second stab was a coup de grace to the jugular.
"…the Golden State Warriors select Ekpe Udoh!"
Boos are supposed to rain down on players. But Oracle's attention was focused on the big ol' ceiling scoreboard.  Fans screamed upwards—as though cursing the heavens. David Stern was Emmanuel Goldstein in the two minutes of hate.
Udoh can't be great–let's hope he's good.
Initial dismay has given to misery. This wouldn't have happened with Greg Monroe.  Even Xavier Henry offered warmer feelings. Udoh casts a pall because the Warriors are replete with younger, similar  players. Based on Udoh's relatively advanced age, I doubt he'll ever be better than Randolph  or Biedrins. But Udoh could convince a certain GM to ditch those two. Oh and remember Brandan Wright? I think he just dislocated his playing time.
I asked some player questions for WW.net but got beat to the punch on draft assessment queries.  Anthony Morrow thought Udoh a great pick. Perhaps Ammo was secretly thinking, "Udoh's a great pick because he's not Xavier Henry!"
Before I wrote this, I read differing Udoh takes from Adam Lauridsen and Matt Steinmetz. Ekpe is a player on whom reasonable people can disagree.  I suppose that's better than a completely laughable pick. But Adam is higher on Anthony Randolph than Matt is.  And how you feel about Randolph should influence how you feel about Udoh.
John Hollinger posited that Randolph could lead the league in shot blocking. Udoh's only elite skill is the swat. If part of you fears an Anthony Randolph dumping, then this pick should be a bitter tin-foil sandwich. I don't know who's in control, but I can guess that more minutes for Udoh means fewer for Randolph.  If the current crew lingers, it's important to remember: They benched AR in favor of washouts.  And those guys didn't look nearly so swell in a suit.